When it comes to running a successful website, page speed is incredibly important. In fact, it's a key factor in your search engine ranking, user experience, and, ultimately, your conversion rate.
Without a doubt, today's consumer doesn't like slow websites. According to SEO experts, 47% of consumers won't wait longer than two seconds for a page to load, and 40% of users bounce from sites that take more than three seconds.
So, (for example) if you're an eCommerce site earning $100,000 per day, this means a single one-second delay could end up costing $2.5 million in annual sales. Yikes.
The truth is, it's extremely important to understand how your website is performing at all times. You can learn a lot just by conducting some simple analysis and evaluating the core web vitals.
The key is to know which tools to use and how to apply them to your project. To help you get a leg up on the competition, we put together this list of five powerful tools. This way, you will know to test your load time (for free) and what to do if your page speed isn't up to par.
But first, let's lay out a clear definition of page speed and explain why it's crucial for every online business. After that, you'll be ready to optimize your site and get a nice boost to your conversion rate!
What is page speed?
Basically, page speed is a measurement of how long it takes your content to load. More specifically, it indicates the duration between a browser's initial page request and the final rendering of the content.
There are several components that work together to determine page speed: page file size, image compression, and the site's server. Below we will show you how to identify issues in these areas and how you can fix them.
What is site speed?
At first glance, it's easy to confuse site speed and page speed. Although they are very similar, they are not the same. Site speed refers to the performance of several sample pages, while page speed (or page load time) refers to the performance of an individual page.
In this article, we will focus on optimizing page speed. If you want to check your site speed, we recommend Google Analytics. Just click on the behavior tab on the left column and select site speed.
Why is page speed important?
Page speed has a direct effect on the success of your website. For one, it's a key aspect of a quality user experience, which is why Google considers it a top priority for SEO. Without a good ranking from search engines, it is much harder to convert sales and increase your ROI.
Let's look at these three factors in more detail.
Search Engine Optimization
Search engines like Google and Bing love a fast website because users demand it. If you want to appear on the first page of results for your focus keyword, it's vital that your site is performing well.
Back in 2014, Moz conducted a study showing more than 90 percent of users never visit the second page of results. In order to appear on the first page (top ten), there is a long list of boxes that you need to tick off, and page speed is one of them.
Since more than 95% of online searches start with a search engine, you would be missing out on a lot of potential leads by ignoring Google's optimization suggestions. At the end of the day, ranking on pages three, five, or ten is of no benefit to your business because the majority of users don't click past page one.
To elevate your bottom line, you need to find a way to appear in the top three results on the first page. One of the first steps is to optimize your page speed.
User experience
Pages with slow loading times result in higher bounce rates and less time spent on the page. This is because users correlate a slow site with a poor user experience. As an example, think about your own engagement with search queries.
If you enter a keyword into Google's search bar and click on a site, how long will you wait before you exit in search of another option? Odds are, not more than a few seconds. The same goes for other users.
Here's a graphic from ThinkWithGoogle to provide further explanation.
Conversion rate
The term conversion rate represents the percentage of total visitors that convert to a sale. If 100 people visit your site and 50 of them make a purchase, your conversion rate is around 50%. What you might not know is that there is a direct correlation between page speed and conversion rates. Basically, the faster your pages load, the higher your sales revenue.
There are tons of studies and a vast amount of data to support this claim. Below we included some convincing conversion rate statistics.
If the above information wasn't enough to convince you that a slow-performing website can cost you serious money, take a moment to digest the data on this chart. As you can see, sites with a page speed of less than one second convert the most customers.
Image courtesy of Portent.
How do I run a page speed test on my website?
To test your website's page speed, all you need is a working computer and your web address. Once you have this in order, simply visit the web tools listed below and run a free test.
Although this list of tools is far from comprehensive, we did our best to include the sites we find most useful. While they all have strengths and weaknesses, we recommended trying all of them and seeing which ones you like the most.
How can I speed up my website? 7 Pro Tips
Compress files
Files like HTML, CSS, and Javascript may slow your page speed down if they aren't compressed. By decreasing their size, you can give your site's page speed a boost. Many of the tools in this article provide insight into your compression size. If you want to address this issue, we recommend the following: CSS Compressor, JSCompress, and TextFixer.
Compress images
Similar to compressing files, image compression is a quick and easy way to improve page speed. The smaller the images, the faster the website. Another tip is to save your images as JPEG or PNG files, so they are optimized for SEO. Some solid tools for that are Adobe Photoshop, Compressor.io, and Imagify.io.
Select a hosting service that optimizes performance
The most straightforward solution is to join forces with a web host that prioritizes performance. Instead of finding the cheapest hosting service around, we recommend taking the time to find a partner that has dedicated servers with a blazing-fast load time.
With CloudSpark, your site and page speed will be 2-5 times faster than other hosting companies in the same class. We offer unrivaled customer support and a 99.9999% uptime. On average, our servers load websites 65% faster!
---
---
Minimize your redirects
Too many redirects can have a dramatic impact on loading times. Basically, anytime a redirect occurs, it slows down the HTTP process. You can prevent redirects by being very selective with your internal linking strategy. The other method is to identify all the redirects on your site and get rid of the unnecessary ones.
Cache your browser
Most browsers will store website data (like graphic images, HTML files, CSS stylesheets, etc.) to make future sessions more speedy. One way to speed up loading time is to extend the expiration settings on your browser's cache. By lowering the Time to First Byte (TTFB), you allow the server to use fewer resources. Typing "optimize" or "cache" in the plugin repository will bring up a number of great plugins to help you cache your browser.
Minify HTML, JavaScript, and CSS
The next strategy is to minify your HTML, CSS, and Javascript code. The easiest way to achieve this is to go back and remove unneeded elements, characters, comments, and spaces. These actions will decrease the file sizes and make it easier to consolidate. Once completed, your website should load faster.
Eliminate unnecessary plugins
Simply put, too many plugins can congest your site and decrease performance. Aside from being very selective about future plugins, you can also go back and review the ones that are currently in use. Get rid of any that you aren't using, and remember to check for outdated plugins, as they pose security threats to users.
What is a good page speed score?
Generally speaking, your optimal load time is between 2-3 seconds. Essentially, if your vitals are high, Google is more likely to rank you higher. If they are low, you will need to optimize your site before it can rank well with search engines.
Most tools will calculate your performance based on many variables and provide a percentage or a letter grade. In these cases, anything over 90 is considered good. Scores between 50 and 89 are average. And anything below 50 means you need to improve your website.
Run a speed test (for free) with these powerful tools
As an example, we ran some of our company sites through the tools listed above. This way, you can learn how to test your page speed and decipher the performance metrics to formulate a solution.
For the most part, all you need to do is copy your URL into the search bar and hit enter. After that, you will be given the results and some key data points, as outlined below. Let's get started!
The GTmetrix site will test the performance of web pages, reveal the issues, and unlock optimization opportunities. Here is an example of the performance report.
GTmetrix Grade is an evaluation of your page performance. These figures (performance and structure) show how fast your page loads and measures its ability to perform. To view more data about these metrics, simply click on the appropriate tab and review the results.
Web Vitals are core metrics outlined by Google that specify if the user's experience is up to par. It's important to deal with these metrics straightaway. Once your web vitals are optimized, you can move on to more complex issues. Before using this tool, it's vital that you understand the terminology. Below we break down the most important terms.
Largest Contentful Paint (LCP)
LCP calculates how long it takes for the pages' largest content element to appear within your guests' viewport. Aim for an LCP of 1.2 seconds or less for a quality user experience. If your score ranges between 2.5 and 4.0, the user experience is not optimized.
Total Blocking Time (TBT)
TBT indicates how much time is blocked by scripts while loading the page. This includes mouse clicks, screen taps, or keyboard actions. Aim for a TBT of 200 milliseconds or less. Scores ranging from 200-600 are average, and anything over 600 is considered slow.
Cumulative Layout Shift (CLS)
CLS tells you how much layout shift users experience while loading a page. In other words, it helps quantify the user experience. Aim for a CLS score of 0.1 or lower. Scores between 0.1 and 0.25 need improvement, and anything above 0.25 is considered poor.
The Waterfall Chart is a "request-by-request visualization of the page load data." These data sets help to understand how an initial value corresponds to a cumulative value, as shown in the right column. On the GTmetrix test, the waterfall chart also provides insight into the number of requests, compression, and onload speed.
To view this information, click on the gray waterfall tab below your GTmetrix grade. Here is an example.
With the Google Developers PageSpeed Insights tool, you can learn what your actual users experience and diagnose any performance issues. After entering your address, remember to select mobile or desktop, depending on which device you want to test. After that, hit the blue 'Analyze' button, and you're off.
Performance
The primary metric from PageSpeed Insights is a score from 0-100. As expected, the higher the score, the better your performance. As with most of these tools, the results are color-coordinated, so you have a clear idea of where you stand.
90-100 is good (green)
50-89 is average (orange)
0-49 is poor (red)
The Lighthouse performance scoring is calculated from various metrics as follows.
Cumulative Layout Shift (CLS) – definition above
Largest Contentful Paint (LCP) – definition above
Total Blocking Time (TBT) – definition above
First Contentful Paint (FCP)
FCP measures perceived load speed. This metric indicates the first time users get feedback that the page is loading. A good score is less than 1.8 seconds. An average score is between 1.8 and 3.0 seconds. Any result higher than 3.0 seconds is considered slow.
Speed Index (SI)
Speed Index indicates how fast a website loads and displays visually. According to Lighthouse, a strong Speed Index score is 4.3 seconds or less. Average scores range between 4.4 and 5.8. A bad score is anything higher than 5.8.
Time to Interactive (TTI)
TTI is a performance indicator defined at the moment the final long task is complete, followed by five seconds of inactivity. A good TTI should be less than 3.8 seconds. The TTI score is calculated by comparing your TTI time with the TTIs of high-performing sites.
Opportunities
The opportunity section provides insight into ways that you can improve your page speed based on your specific results. Although these suggestions will help your page load faster, they don't impact your performance score. If you want to learn more about Opportunities, just click on the dropdown for further suggestions.
Diagnostics
The last section of the report will include information about your diagnostics and passed audits. As always, you can view more information about each item by clicking on the dropdown. Some examples include third-party embeds, browser caching, critical request chains, request counts and transfer sizes, LCP elements, and more. Basically, if you fix these issues and retest, your page speed should improve.
---
---
Next up is the Pingdom website speed test. You can use this free tool to check page load time, analyze the results, and pinpoint important bottlenecks. Once you copy the address, don't forget to select your region (Asia, North America, Europe, Pacific, or South America). After that, hit the green 'start test' button and hang tight for the results.
You will receive a performance grade and information about page size, load time, and requests. Below that, there is a list of ways that you can improve your website performance with a grade and corresponding suggestions. To read more details about each item and review Pingdom's suggestions, click the down arrow to expand the box.
The last section provides a breakdown of 'content size by content type' with a percentage and size. Examples of content include script, image, font, CSS, HTML, text/plain, other, warning, and redirect. You can use this information to help determine which content to compress. There are options to download the results page or share the data with your team.
Using the Gift of Speed website, you can analyze page speed from your preferred location and receive a shareable report within a few seconds. As usual, the first step is to enter your URL, select your test location and device (desktop PC or mobile), and click 'Test webpage.'
Your website will be ranked based on the themes below. We provided an example so you can see how it works.
Speed Score
On the report, you will see a Speed Score with a percentage and a brief explanation. This figure is calculated on several Key Speed Metrics.
Key Speed Metrics
To the right, there's a box containing Key Speed Metrics and a corresponding color (green/good, yellow/average, or red/poor). You will receive a score for the following: Cumulative Layout Shift, First Contentful Paint, Largest Contentful Paint, Total Blocking Time, Time to Interactive, and Speed Index.
Overall Information
The next section contains Overall Information with a size comparison between different types of content (fonts, javascript, CSS, images, etc.). You will also see data about your First Byte, Fully Loaded, Requests, and Page Size.
If you want to view more comprehensive data, you can click on the blue tabs below this section. There are options to view the 'breakdown,' 'issues,' and your 'waterfall.'
Here is a screenshot of the Breakdown results. Notice there is information about the slowest local resources and slowest external resources with load times as well.
Results for Issues (click the dropdown to view the data)
Waterfall results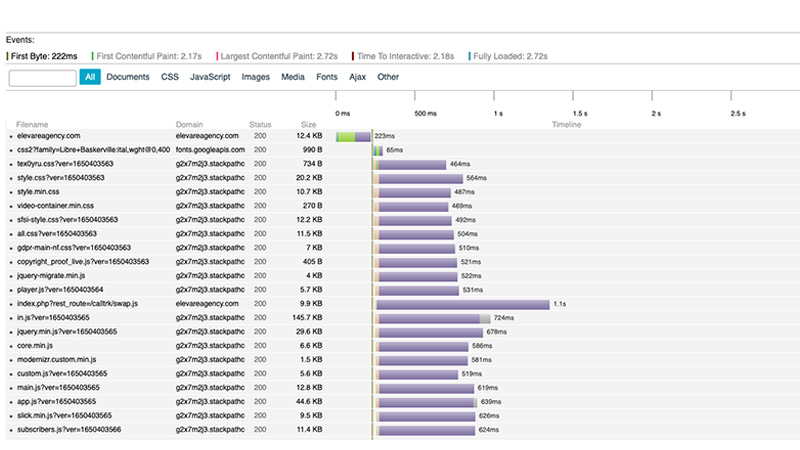 WebPageTest by Catchpoint will help you test your speed and usability across real-life devices, browsers, and locations. You can also use the platform to take online courses and get API access and no-code experiments.
Before entering the URL, you are given options to conduct five different experiments; Site Performance, Core Web Vitals, Lighthouse, Visual Comparision, and Traceroute. For the sake of this article, we ran the Site Performance test. Before you run the test, remember to configure the presets. After that, click the 'Start Test' button to run the analysis.
A Performance Summary will be generated in a few moments. The first component is Opportunities & Experiments, followed by Observed Metrics.
At this time, it's important to take note of your LCP, CLS, and TBT score. Those figures will appear in different colors, depending on your ranking.
You can access data from three Individual Runs. For each run, there is information about your First View speed, Timeline, Processing Breakdown, and Trace. To the right, you will see your waterfall, screenshot, and video.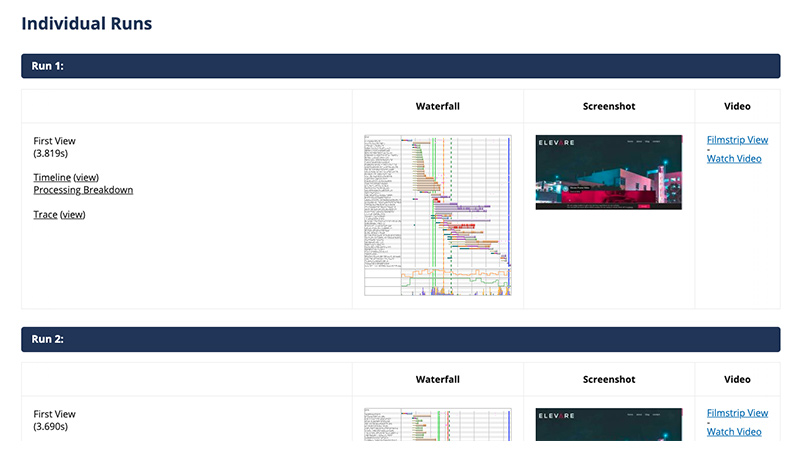 At the very bottom of the page is the Content Breakdown. This data incorporates a pie chart with percentages that display results for your Requests and Bytes (HTML, javascript, CSS, image, font, other). For more information, hover over the data and click on any items to open the Timeline, Processing Breakdown, and Trace in a new tab.
Example of the Timeline report.
Example of the Processing Breakdown.
Need help optimizing your page speed? Check out our hosting plans!
When you add a new site to our server (without optimizations), you might be surprised to learn that you get an automatic boost to your page speed. This is because our servers load websites 65% faster than others hosts, averaging 1.85 seconds. It's true!
We also provide free speed tests so you can see where you stand. If you want to try out our hosting plans, we are happy to offer a FREE 30-day trial. Then, if you like our service, you can transfer with a simple click.